The Best 8 Places for Honeymoon in Morocco

Are you and your partner seeking an exotic and romantic Morocco honeymoon? Look no further than this North African gem! With its stunning architecture, vibrant markets, beautiful beaches, and diverse landscapes, Morocco offers an unforgettable experience. Here are our top three picks for the best honeymoon destinations in Morocco.
When planning your Moroccan honeymoon, consider the atmosphere you desire. Do you want to immerse yourselves in a new culture? Explore cities like Tangier, Fes, Marrakech, or Casablanca, which boast a rich history, captivating architecture, and bustling markets to discover local treasures.
If you prefer a more relaxed and laid-back honeymoon, Essaouira, Al Hoceima, or Mirleft are ideal coastal towns. These destinations offer the perfect escape for lazy days on the beach, basking in the sun, and creating cherished memories together. Whether you seek cultural immersion or seaside tranquility, Morocco has something special to offer for every couple's dream honeymoon.
So why are you waiting? Contact us today and start planning your honeymoon in Morocco with us
Do You Want to Take a Tour of Morocco?
When planning your Morocco honeymoon, another essential consideration is whether to stay in one city or embark on a countrywide tour. Each option presents unique advantages and drawbacks, so it ultimately depends on your travel preferences and style.
Opting for a road trip adventure allows you to explore the diverse beauty of Morocco and create lasting memories together. It can be an exciting bonding experience, exposing you both to new and enriching cultural encounters. However, constant location changes may lead to some stress and logistical challenges.
On the other hand, selecting a single location for your honeymoon can offer a more relaxed and manageable experience. Focusing on one destination reduces decision-making, making it ideal for couples seeking a hassle-free post-wedding getaway. If you anticipate feeling overwhelmed after the wedding, choosing a single location may be a more soothing and enjoyable option for your Morocco honeymoon.
The Best 8 Morocco Honeymoon Destinations
Honeymoon in Marrakech

Absolutely, Marrakech is an exceptional destination for a romantic honeymoon in Morocco. The city's rich history and vibrant atmosphere create an enchanting setting for couples to explore together. From navigating the bustling markets of the medina to admiring the intricate architecture of its mosques, Marrakech offers a truly immersive cultural experience.
For those seeking a luxurious stay, Marrakech boasts an array of high-end hotels and resorts that cater to every comfort and desire. Indulging in fine-dining experiences and savoring Moroccan delicacies will surely delight any food-loving couple.
Moreover, the city's adventurous side awaits with thrilling hot air balloon rides, providing a unique perspective of the stunning landscapes and creating cherished memories. Embarking on a food tour to savor the diverse flavors of Moroccan cuisine is a delightful way to bond over shared culinary experiences.
Marrakech's allure makes it an ideal choice for an unforgettable and romantic honeymoon, offering a perfect blend of culture, luxury, and adventure to begin your journey as a married couple.

Honeymoon in Fes

Fes, Morocco's oldest city, exudes timeless charm and history. Its narrow streets transport visitors back in time, offering an authentic medieval experience. The Medina, one of the world's largest medieval cities, beckons with vibrant markets and traditional craftsmanship. Haggling for souvenirs is a delightful pastime.
Preserving its medieval character, Fes captures the essence of Morocco's rich heritage. Exploring its bustling Medina and interacting with friendly locals leave lasting impressions. The city's cultural allure and warm hospitality make it an enchanting destination for an authentic Moroccan adventure.
Honeymoon in Tangier
Tangier, a captivating coastal city, is a must-see for couples seeking the essence of Morocco's diverse culture. Its architecture, cuisine, and art showcase a rich history of cultural convergence. Don't miss the chance to savor the famous coffee shops and embark on a day trip to nearby Asilah or hop on a ferry for a Spanish adventure. Tangier's vibrant atmosphere and unique blend of influences create an unforgettable experience for honeymooners exploring the best of Morocco's coastal charm.
Honeymoon in Chefchaouen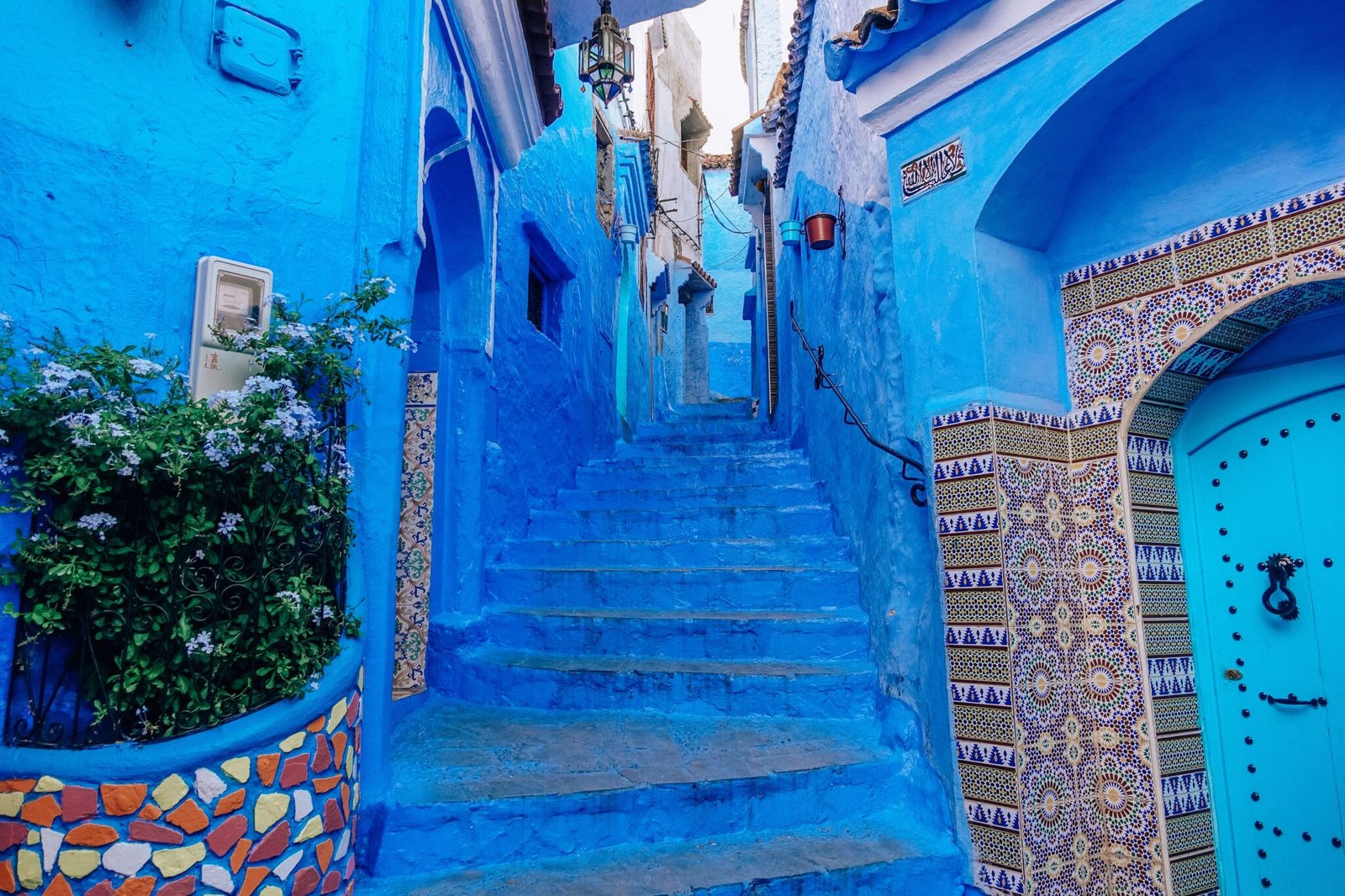 Chefchaouen, also known as The Blue City, is a mystical gem nestled in Morocco's scenic Rif Mountains. The city's captivating blue buildings have religious significance, inspired by ancient Jewish teachings. The use of the color blue stems from dyeing thread with tekhelet, a natural dye, for talitim (prayer shawls), as a reminder of God's presence. This age-old tradition lives on in Chefchaouen, where the buildings are regularly repainted in shades of blue, creating an enchanting and spiritual atmosphere that attracts travelers seeking a unique and unforgettable experience in Morocco.
Honeymoon in Essaouira
Essaouira is an ideal beach honeymoon destination, nestled on Morocco's enchanting Atlantic coast. Its windy weather and world-class surfing conditions make it a paradise for water sports enthusiasts. Beyond the waves, you can immerse yourself in the city's atmospheric medina, where vibrant souks, art galleries, and charming cafes await. For a touch of romance, take a camel ride on the sandy shores and embrace the breathtaking coastal views. Essaouira offers the perfect blend of beachside relaxation and cultural exploration, making it a dream destination for couples seeking an unforgettable honeymoon experience in Morocco.
Honeymoon in Mirleft
For an intimate and off-the-beaten-path honeymoon, Mirleft is a hidden gem on Morocco's west coast. This tranquil town offers a serene atmosphere, making it ideal for couples seeking relaxation and solitude. Enjoy the laid-back vibe at beach cafes and restaurants while savoring the breathtaking ocean views. Adventurous couples can partake in thrilling watersports or embark on invigorating hikes along the stunning coastal trails. Mirleft's unspoiled beauty and peaceful ambiance provide a unique and unforgettable setting for a romantic escape, allowing you to create cherished memories as you start your journey as newlyweds.
Honeymoon in the Atlas Mountains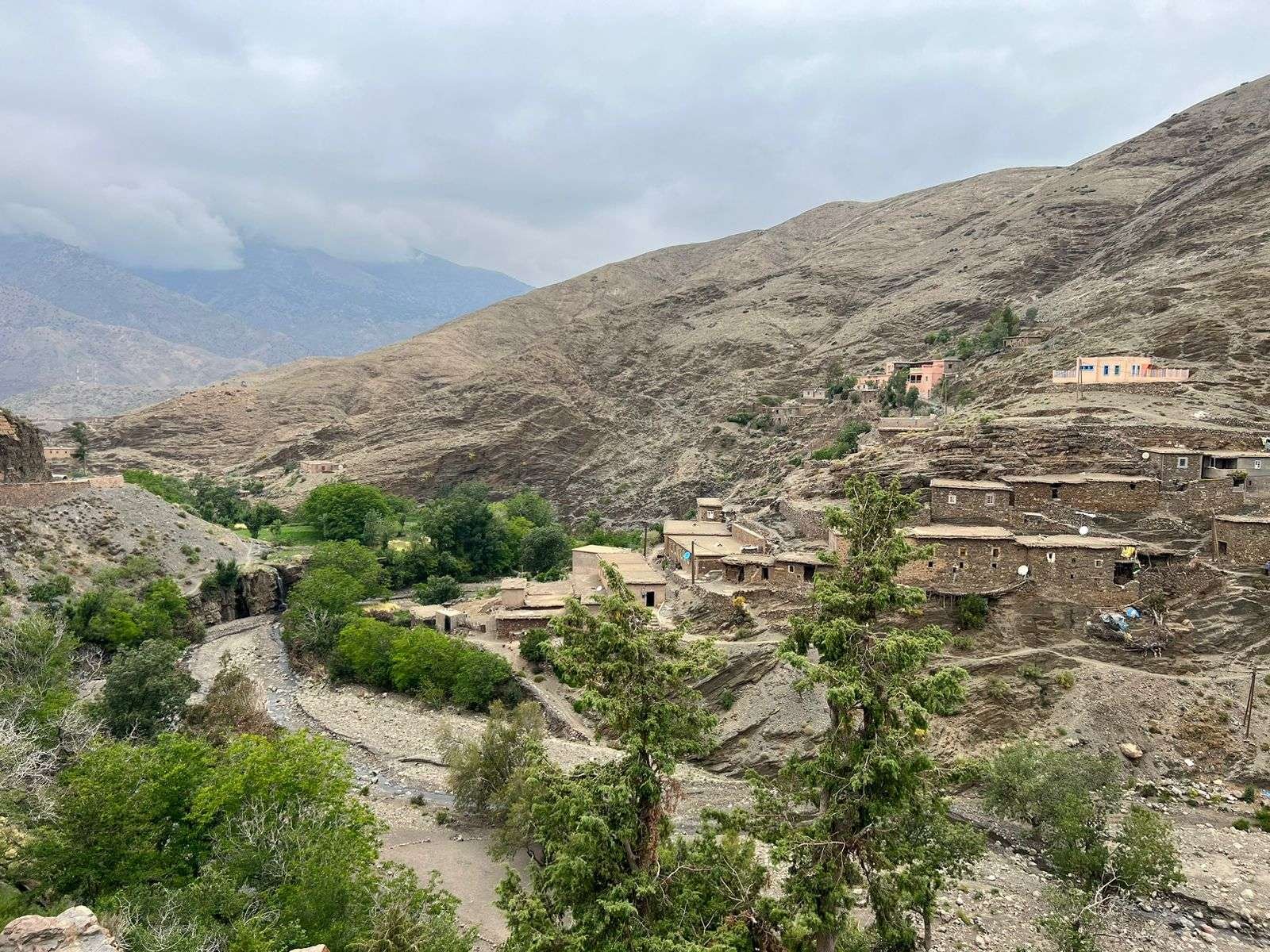 Nestled within this mountain range are charming villages that until recently lacked basic amenities like electricity and running water, a luxury now appreciated by many. These ancient settlements offer a unique experience where time seems to slow down, and life is measured by the journey from one place to another, marked by hours and days. During winter, these picturesque spots become havens for skiing enthusiasts, while in the summer, they transform into perfect destinations for glamping, where you can immerse yourself in nature's beauty and enjoy a touch of luxury amidst the mountains.
Honeymoon in Al Hoceima
Al Hoceima, a serene town on Morocco's Mediterranean coast, offers a peaceful and relaxing honeymoon experience. With its beautiful beaches and tranquil ambiance, it's an ideal spot to unwind. You can find charming small hotels and guesthouses as well as excellent seafood restaurants to indulge in local cuisine. Exploring the town's Spanish-style architecture or taking a boat trip to nearby islands adds to the allure of this off-the-beaten-path destination.
Morocco's diverse landscapes, rich culture, and historic cities make it an enticing choice for a romantic getaway. So, why wait? Start planning your dream honeymoon in Morocco today and create unforgettable memories with your partner.

Best Time of Year for a Honeymoon in Morocco
Morocco is a wonderful destination for a honeymoon throughout the year, but the spring season (March to May) stands out as an awe-inspiring time to visit. The weather is pleasant with fewer chances of rain, making it perfect for couples to explore the country together. During spring, various festivals like the Festival of World Sacred Music, Fes Festival of World Sacred Music, and Tangier African Film Festival add to the enchantment of the trip.
The stunning scenery of Morocco in spring makes it even more appealing. Since there are no major holidays during this time, travelers can enjoy a quieter and more peaceful experience. Many Europeans are still on holiday after Christmas, and Moroccans take a break during the month of Ramadan. This period offers an excellent opportunity to find great deals on flights and accommodations, making your honeymoon budget-friendly. With its romance and natural beauty, Morocco provides an unforgettable experience for couples looking to make their honeymoon truly special.
Why Plan Honeymoon in Morocco
Morocco, a vast country in North Africa, is renowned for its stunning landscapes, including the Atlas Mountains and the Sahara desert. Its vibrant cities like Marrakech, Fes, and Casablanca are full of beauty and history. One of the most striking aspects of Morocco is the warm and welcoming nature of its people. Locals are friendly, always ready to help, and eager to share their country's rich history and culture with visitors.
The diverse colors, sounds, and aromas of Morocco create a unique sensory experience for travelers. Exploring the local markets and shops is a must, as you'll discover a treasure trove of exotic items. The country offers incredible opportunities for unforgettable experiences that should not be missed. From immersing yourself in the rich history to indulging in the enticing shopping experiences, Morocco is a land of possibilities that promises to leave a lasting impression on every traveler.

How much does a Honeymoon in Morocco Cost?
When planning a honeymoon in Morocco, couples have two options: arranging the trip directly or through a travel agency, get in touch with us. Morocco is an exotic and affordable destination with a rich culture and natural beauty, making it an attractive choice for newlyweds. The country offers a variety of trip styles to cater to different budgets and preferences, ensuring that couples can find the perfect package for their dream honeymoon.
With its diverse landscapes and unique experiences, exploring Morocco with your partner can be an unforgettable adventure. From the bustling markets of Marrakech to the tranquil beaches of Essaouira, there are plenty of romantic spots to discover. Planning a honeymoon requires careful consideration of details, but the reward of an enchanting and memorable journey together makes it all worthwhile.
Is the Sahara desert of Morocco safe for a Honeymoon?
When considering a honeymoon in the Sahara desert of Morocco, safety is a crucial concern. Rest assured, Morocco is generally a safe destination for couples looking to have a beautiful and romantic honeymoon. Like any other country, it's essential to exercise caution and avoid risky situations, especially in crowded areas. Morocco has been a popular destination for European tourists for years with few incidents.
Researching your destination and staying in well-located, reputable hotels is vital to ensure a safe and enjoyable experience. Choosing a centrally located hotel in a popular area where other tourists stay can enhance safety. By taking necessary precautions and being aware of your surroundings, you can have a wonderful and safe honeymoon in Morocco, a country known for its enchanting beauty and hospitality.
Best Morocco Tours with us

Discover the best of Morocco with Tour To Morocco Agency! No more spending hours planning your itinerary – just let us know the duration of your stay, the number of travelers, and your arrival and departure cities. We'll handle the rest, tailoring a journey that includes all the top attractions while ensuring your comfort and leisure throughout. Say goodbye to the stress of planning and hello to an unforgettable adventure. Contact us through the link provided and let's create your dream Morocco tour together!
Desert Tours from Marrakech
Desert Tours from Casablanca
Desert Tours from Tangier
Desert Tours from Fes